Mission and Vision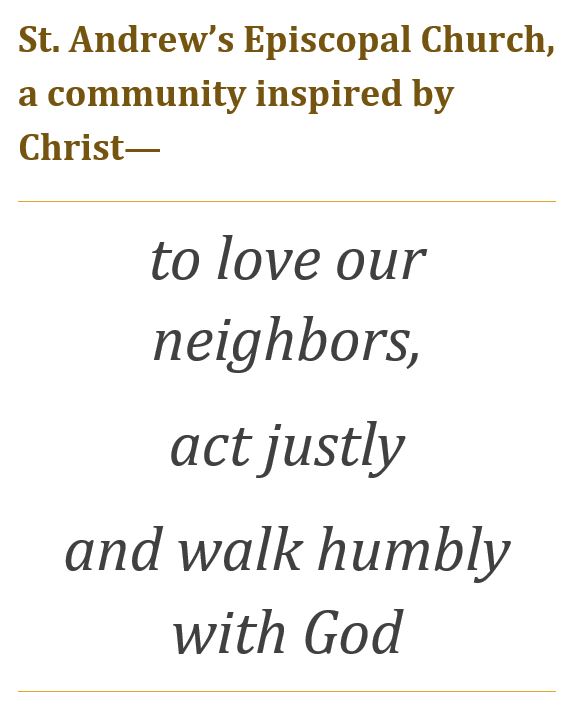 Mission adopted by St. Andrew's Episcopal Church Vestry, August 2019
About the Vision & Planning Committee
At the direction of the Vestry and Rector, St. Andrew's formed a Vision & Planning Committee which began meeting in April 2019. The group worked throughout the remainder of the year to formulate a three-year strategic vision to guide St. Andrew's in engaging God's mission. The first part of the process was a comprehensive review of our mission, ministries, programs and activities. One result of the effort is a new parish mission statement, adopted by the Vestry in summer 2019.
The Vision & Planning Committee has undertaken an analysis of strengths, weaknesses, opportunities, and threats and reviewed the use of financial resources. In January 2020, with Vestry approval, the Committee has finalized a set of goals for our three Core Pillars: Worship, Spiritual Formation, and Service. To effectively support these "pillars" we have identified goals for improvement in two crucial areas that provide a foundation for our pillars, communication and finance.
Going forward, the Vestry will lead the implementation of these goals including adopting timelines and allocating resources to undertake each goal. Members of the parish are invited to prayerfully consider this vision for our faith community, to identify areas where you feel called to share your time and talent, and to engage with the Vestry to chart this course in the life of our parish.
Vision & Planning Committee:
Chair: Nancy Karas
Members: Lauren Dodington, Laura Downes, Kristen Garnett, Alice Hencir, Rev. Shariya Molegoda, Gary Naegel, Tom Stott
Worship
St. Andrew's will—
Increase the number of participants in weekly worship services by 10% annually**|***
Increase the number of people serving in worship services by 15% annually**|***
Through participation in all roles that support worship, including altar guild, acolytes, flower ministry, ushers, lectors, chalice bearers, vergers, choir members and musicians
Continue to provide a diversity of liturgical styles in worship service and openheartedly explore an expanded range of liturgical offerings**
Establish and implement a 10-year plan for maintenance of worship spaces, restoring and maintaining the glory of our church and outdoor chapel, grounds and memorial garden**
Spiritual Formation
St. Andrew's will—
Identify and implement a birth through adolescent pathway that ensures formation opportunities for our youth, including church school, confirmation classes & youth groups**
We will reassess the curricula every three years.
Cultivate spiritual growth amongst adults who serve our youth by providing opportunities for training, fellowship, and community building at a minimum of three times annually**
Provide adult Sunday formation opportunities which enrich our spiritual life on a regularly recurring schedule with a goal of providing weekly Sunday adult formation within three years*|***
Operating with the ideal goal of connecting each member to a small group or formation experience, we will offer at least five such adult opportunities annually within three years.**|***
Service
St. Andrew's will—
Establish an Outreach Committee whose mandate will include reviewing current outreach commitments, developing guiding principles for the creation of new ventures, and determining the allocation of financial resources*
Establish a Hospitality and Fellowship Committee whose mandate will include identifying parish needs and developing programs to meet those needs*
Establish an Environmental Stewardship Committee whose mandate will include reviewing our current practices, identifying opportunities for collective action, and developing guiding principles aligned with the focus of ECCT on embracing a global vision of climate justice and preserving and celebrating God's creation*
With the vision of engaging every member in service to one another or in service to our neighbors locally, regionally, and globally, St. Andrew's will seek to understand the participation of parishioners in service activities and to inform the Outreach, Hospitality & Fellowship, and Environmental Stewardship Committees' efforts to deepen St. Andrew's impact**
Financial Goals
St. Andrew's will—
Strategically align resources with the vision and mission of the church ***
Present a balanced church operating budget, not exceeding 4% annual drawdown from the endowment within three years***
Increase the number of pledging units by 5% annually over three years**|***
Increase total pledge revenue by 10% annually over three years**|***
Provide an annual education forum focused on planned giving in support of the endowment and annual pledge drive**
A note about timeframes:
The goals that guide the three-year vision for St. Andrew's are bold and ambitious but achievable with the concerted effort of the Vestry and the support of the parish in providing time and energy to sustain our efforts.
Each goal appearing in this document is denoted with an asterisk, indicating the anticipated timeframe required to accomplish the goal once the Vestry initiates work.
Timeframes are indicated according to the following:
*: Short-term: This goal can be completed in three to six months from initiation.
**: Mid-term: This goal is expected to require one year of effort for completion.
***: Long-term: This goal will require a longer-term investment and will not see completion until three years from initiation.
**|***: Phased Goal: This goal will require both initial investments in the first year, and long-term investments to achieve the intended outcome