Returning to Worship
Dear People of St. Andrew's,
St. Andrew's is currently hosting two limited in-person worship services, in addition to the online service:
Saturdays at 5:30pm in the Outdoor Chapel (reservation required)
Sundays at 8:30am in the Sanctuary (reservation required)
Sundays at 10:00 Virtual Service on Zoom
These are unprecedented times and much has changed. Please bear with us through the transition to in-person worship. To help our parish become accustomed to social distancing on church property, Shariya with Jane and Cathy Golden created two short videos (totally a first debut). Please click the link below of the service you are interested in attending to view the new social distancing guidelines.
Outdoor Chapel – Saturday 5:30 pm (Weather permitting)
Sanctuary – Sunday Morning 8:30 am
Reservations are required for attendance of an in-person worship service. No reservation is required for the virtual worship service on Zoom.
For a reservation, please call (203) 245-2584 ext#1 and leave the following information beginning on the Thursday before the service.
Name
Phone number
Service (Chapel 5:30 pm Saturday or Sanctuary 8:30am Sunday)
Number of persons attending
You will receive a return phone call to confirm your reservation and review the general guidelines. In a few weeks, there will be an online reservation system.
General Guidelines
Masks are required for in-person worship
Please maintain a 6 ft social distance from others
One-way path thru both areas of worship, please follow the entry and exit signs
Be gracious and patient as all of us are learning together
Bathrooms
Outdoor Chapel
Sanctuary
Bathrooms in Preschool Hallway, please always maintain one-way path
Leave through door in front left of Sanctuary, use facilities and return to sanctuary via the Narthex
Change is difficult. We will adjust to the new normal. Remember our first Virtual Worship on Zoom? In-person worship will evolve over time as well.
See you soon!
The St. Andrew's Reopening Worship Subcommittee
In-Person Service Guidelines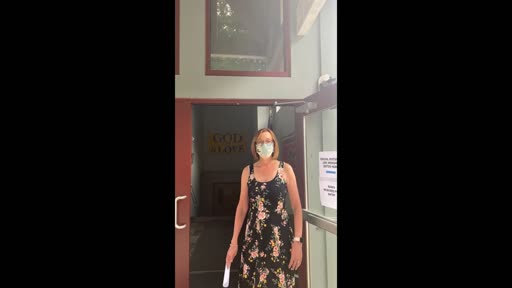 Indoor Service
Guidelines for indoor services

Outdoor Service
Guidelines for outdoor services
A Covenant for In- Person Worship
Do you believe in God the Father?
I believe in God, the Father almighty, creator of heaven and earth.
Do you believe in Jesus Christ, the Son of God?
I believe in Jesus Christ, his only Son, our Lord. He was conceived by the power of the Holy Spirit and born of the Virgin Mary. He suffered under Pontius Pilate, was crucified, died, and was buried. He descended to the dead. On the third day he rose again. He ascended into heaven, and is seated at the right hand of the Father. He will come again to judge the living and the dead.
Do you believe in God the Holy Spirit?
I believe in the Holy Spirit, the holy catholic Church, the communion of saints, the forgiveness of sins, the resurrection of the body, and the life everlasting.
Will you continue in the apostles' teaching and fellowship, in the breaking of bread, and in the prayers by:
faithfully attending worship either in person or through virtual online offerings of my church
reading spiritual devotionals, particularly exploring the apostolic teachings of persons from different races and backgrounds from myself
engaging in conversation, study, and action regarding racial healing, justice, reconciliation, and the sin of racism, white supremacy and anti-Black bias.
I will, with God's help.
Will you persevere in resisting evil, and, whenever you fall into sin, repent and return to the Lord by:
repenting of the sin of racism, white supremacy and anti- Black bias
learning about the dynamics of distorted power imbalances and the impact those disparities have on
relationships and opportunities
repenting when I use my power for my own benefit rather than for the benefit of all of God's people
seeking to return to the Lord through adopting healthy life skills and reestablishing healthy boundaries with others.
I will, with God's help.
Will you proclaim by word and example the Good News of God in Christ by:
revealing in my actions how God's love is to be shared and nurtured
seeking to be a healer, reconciler, and peacebuilder in my community.
I will, with God's help.
Will you seek and serve Christ in all persons, loving your neighbor as yourself by:
wearing a mask over my nose and mouth at all times in church buildings, except momentarily to receive the sacrament or lead worship through an assigned speaking part, and follow public health guidelines for hand sanitizing and disinfecting
only attending worship and receiving Communion if I am non-symptomatic for the COVID-19 virus or any other transmittable disease that could compromise the health of anyone present
abstaining from attending in person-worship if doing so would put me at greater risk due to my own health status
trusting and supporting the decisions of both my diocesan and congregational leaders
staying connected with others in my community by telephone, video chat, or mail
expanding my definition of "neighbor" by getting to know and be in relationship with persons different from myself in terms of race, nationality, first language, socioeconomic status and political party
seeking to serve Christ by being a better listener to the stories of others.
I will, with God's help.
Will you strive for justice and peace among all people, and respect the dignity of every human being by:
having no physical contact with people beyond the members of my own household while in church
maintaining a six foot or more distance from other members of the congregation
respecting any requests for distance, masking, and cleaning, to ensure the safety and comfort level of others
seeking to commit to addressing racial inequality and white supremacy by learning about the historical impact of racism and colonialism in my own life and in the life of the Church, and in the United States
incorporating new antiracism skills into my own life
speaking out when I see racism, white supremacy and anti-Black bias
supporting my church in its commitment to being an inclusive community for all
working for equal treatment of all persons in the church, in my community, in our governmental programs, and throughout the United States.
I will, with God's help.