Creation Care
Environmental Stewardship
At St. Andrew's, we strive to be faithful stewards of God's creation. In addition to our passion for environmental justice for all, we have taken the following actions to lighten our environmental footprint in our church home:
Zero-waste Events
We are pleased to support the concept of "zero waste events" at St. Andrew's Church with our weekly coffee hour and at annual events involving food and refreshments such as the Annual Meeting and 12th Night Dinner and Musical Review. This has been made possible through the use of our commercial dishwasher for coffee mugs, plates, bowls, and flatware along with the use of washable table cloths and napkins, and the mindful use of food preparation and the re-use of decorations. Where appropriate, some items are recycled in designated containers rather than going into the general waste stream.
Energy Reduction
All of the overhead lighting units in Farmer Hall, the kitchen, bathrooms, the Sacristy, and classrooms in the school wing were replaced with low wattage energy saving LED light fixtures to help mitigate our electrical consumption. In 2008, we replaced oil fired furnaces in the church and rectory with natural gas units reducing carbon emissions into the air.
Solar Panels
In the spring of 2019, we installed a 28.5 KW photo electric panel grid over the south facing roof of the main church building and entrance. In the first year, this system has generated over 21 MWh which is equivalent to saving nearly 33,000 pounds of CO2 and planting 830 trees. The clean energy generated by this system helps replaces some of the energy that we annually purchase. Click here to view current solar panel status.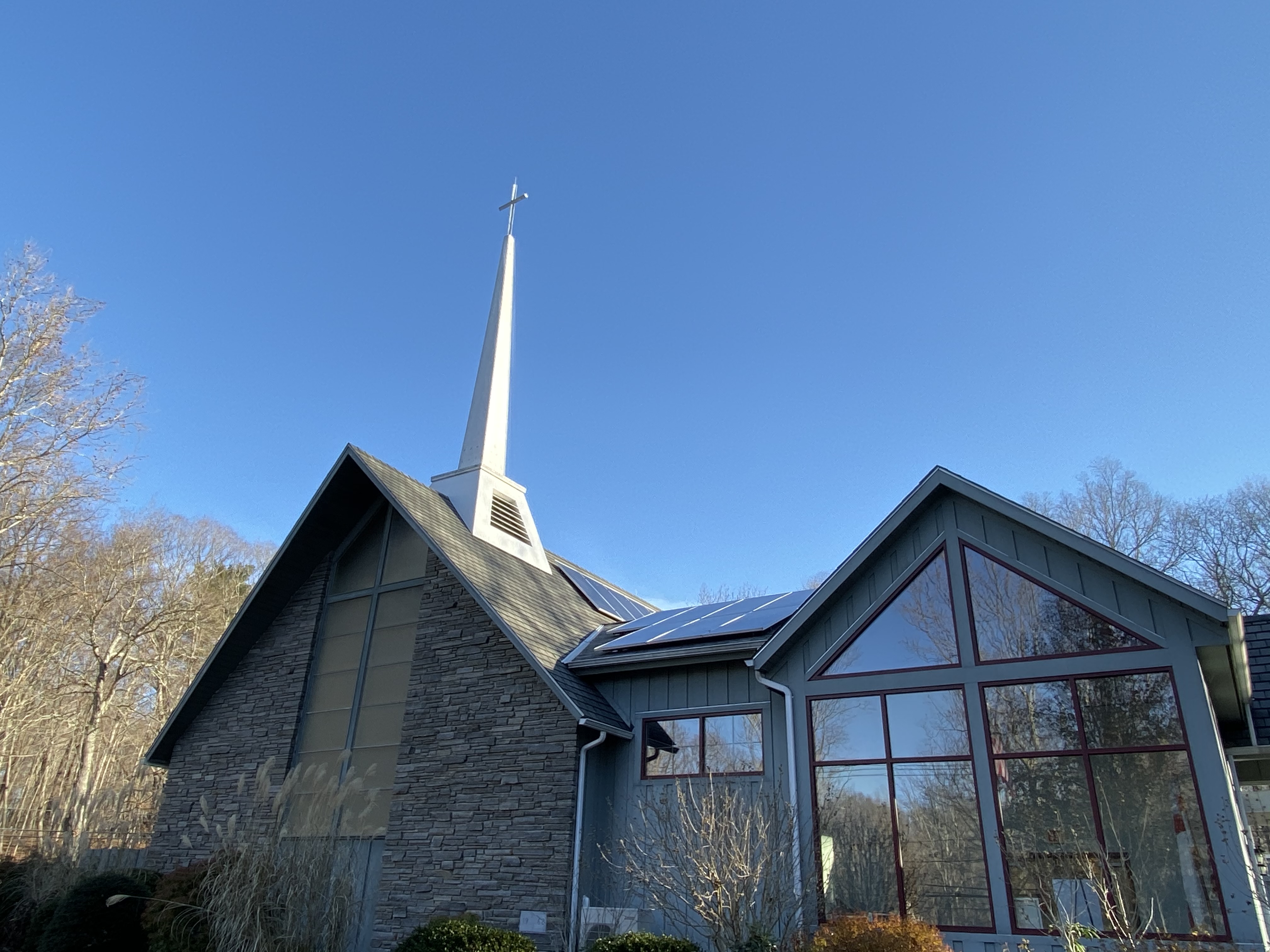 As featured in the ECCT Southeast Region Newsletter
Solar Panels
at
St. Andrew's Madison
Gary Naegel,
Senior Warden
It often takes a crisis or setback to start the seeds of positive change. Such was the case of the environmental stewardship impact and journey that St. Andrew's has followed. We can date this to the last Great Economic Recession of 2007/2008, which was extremely significant, only rivaled by the Great Depression of 1929.
Our parish was in the midst of starting to call for a new Rector, and we decided to use the resources of Yale's Divinity School library for inspiration on topics for adult discussions.At that same time, we were introduced to the first feature-length documentary film to capture the vitality and diversity of today's religious-environmental activists. From within their Christian, Jewish, Buddhist and Muslim traditions, Americans were becoming caretakers of the Earth. The research of Mary Evelyn Tucker, co-founder and co-director of the Forum on Religion and Ecology at Yale University, along with her husband, John Allen Grim, inspired this 2008 film.
After showing the film at St. Andrew's, we started what was labeled then as a "Green Team," which became involved in raising environmental impact and awareness across our community. Some members also became involved with the Madison Energy and Efficiency Committee by holding periodic forums and providing display tables at various venues in the area with environmental awareness on the use of energy, switching to lower energy lighting alternatives, reducing the use of plastic disposal items and bags, and offering alternatives to landfills with "recycling." A modest "green fund" was established with the intention of improving energy efficiency and environmental impact at St. Andrew's.
We engaged our high school youth on a recycling demonstration project during a church Sunday School session by laying out a large tarp on the parking lot. Dressed with white lab coats, rubber gloves, goggles, forceps, and clipboards, we had them empty all of the garbage cans from the church offices and kitchen, so they could be laid out for inspection. The result overwhelmed those present; so much "landfill waste" should have been redirected to "recycling." This project also provided metrics on excess food waste, which could be reduced by more thoughtful procurement.
One of the dreams of the Green Team was the installation of solar panels at St. Andrew's along a stretch of the church building facing due south. However, we found ourselves again in the midst of transition of calling a full-time rector, which put this concept to the back burner, until we called the Rev. Shariya Molegoda, who also shared this interest and had an environmental degree as part of her spiritual journey.
I contacted ECCT about our interest in solar panels and requested assistance with their experiences across the state to help us on our journey. We were provided a resource and began the process of bringing in solar companies to provide estimates. Originally, the various vendors told us to look at the return on investment (ROI) on the purchase of this equipment. Some also began to look for the additional opportunities by expanding the array over the church school wing, which had a flat roof for even greater solar production. Meanwhile, I would bring these various estimates back to the vestry for review and comments.
The next phase was to ask these vendors to re-submit bids by excluding the flat roof and only using the highly pitched south facing roof on the church building, which were then brought back to vestry for review and comments. I was directed to look into the Green Bank, solar loans, etc., which had been a successful pathway for some churches in funding capital projects.
So, we evaluated those proposals, but then I introduced another variant, which was only barely touched on by the vendors: a power purchasing agreement (PPA). We went back to the vendors for their proposals with PPA's. While somewhat variable, this option did not cost the church any money. Instead, we would hire a firm to purchase, install, and maintain the panels in return we would pay them, instead of our electrical provider, with the cost of our solar production in comparable kWh rates. Excess energy produced and not used internally is sent back to grid, hence reducing the amount we would purchase from our energy supplier. This concept found a lot of appeal with the vestry as we evaluated and compared the PPA's with vendor solar panel proposals until we selected the final vendor. With this PPA, these panels will be given to the church after a period of years to enjoy greater savings.



This whole process, from the initial quotes, to the final approval spanned 18 months. Then there are the approvals by ECCT, the State of CT, the energy provider, and local town building, fire, and safety ordinances. It took an additional 8 months before the solar panels were installed and started producing energy in June 2019. We then added a large LCD display screen in the administrative hallway to show production results. To date, we have generated over 37 MWh of energy, which has the equivalence of planting over 433 trees and saving over 58,000 pounds of CO2.
We recently used that Green Fund to help defray the costs of replacing our ceiling fluorescent light fixtures in the church school wing with LED fixtures to reduce our energy usage, since this building is used 5-days a week with our Pre-School. Prior, we had renovated our parish hall and kitchen and replaced all of the lighting in the parish hall, choir room, kitchen, and bathrooms with LED fixtures.
There is a normal solar production curve throughout the 12 months of the year that maximizes around June/July and decreases during Dec/Jan, due to the changes in the length of days and angles of the sun to the earth. For points of comparison, we purchased 3,187 kWh from our energy supplier in August 2018, prior to the solar panels, and purchased 106 kWh in August 2020, after the solar panels were installed, so they are having a positive impact on environment stewardship.